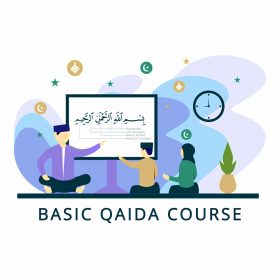 The main target of this course is to
enable students to read the Qur'an. The course uses an effective method
called spelling ( التهجي) in Arabic، It depends on spelling every word
separately and mentioning every Tajweed rule in the verse ( Aya). Through
repetition , students will be familiar with the reading of Qur'an verses.
What you will be learning:
Learning Noorani Qaida:
Alphabet with vowels (Fatiha, Kasra, and Dammah),
Madd with Alf, Wow, and Ya'a.
The exchange Madd (lengthening of the sounds of letters).
The required attached Madd.
The separate allowed Madd.
Tanween with Fatiha, Kasra, and Dammah
Sokoon.
Laam Sakinah rules.
Shadda with Fatiha, Kasra, and Dammah.
Mastering this rule will enable any learner alone to apply this method to the Qur'an